Design is successful when it relates to people and surroundings, past and future. We move beyond satisfying the basics by striving to provide more than can initially be imagined. We challenge ourselves to bring something new, whether in planning, programming, design, delivery or collaboration, to each project we do.
"...The design team developed the Space Plans and Construction Documents in record time. We are particularly grateful to you for your coordination with Arlington County permit office to ensure that all life safety requirements for the facility were met. Thank you for all your extra efforts in making this important endeavor a success."
TIMOTHY CAMPEN
Special Assistant to the President & Director of Office Administration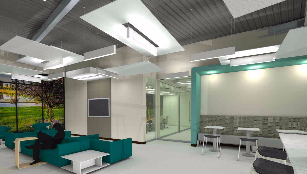 We believe that to innovate is to evolve and we reject the short-sighted design approach. As we embark on a project, we have the long term in mind and work to create spaces that the next generation will embrace as enthusiastically as its present occupants, believing that functionality and flexibility for the present and the future should always be considered.
It is important to us that our work relate to internal and external environments, the people who will inhabit the space and the mission that the space ultimately supports. Our goal is to develop spaces that shape corporate and individual vision in subtle and empowering ways through design solutions that inspire and integrate people, technology, and work processes.

SERVING THE NATIONAL CAPITAL REGION FOR 20+ YEARS
InterSpec Design, Inc. is a full service architecture, space planning and interior design firm with a rich past and eye to the future. Inspired by the desire to make your vision a reality, we bring a team-centric, collaborative approach to everything we do. Having worked on some of the area's highest profile public and private projects, our reputation for innovation, efficiency and cost effectiveness is best reflected through our lasting relationships with satisfied clients.